Jammu
Rashtriya Ekta Diwas celebrated in Poonch
Rashtriya Ekta Diwas celebrated in Poonch
POONCH TODAY NEWS
POONCH: Rashtriya Ekta Diwas, on the eve of  birth anniversary of Iron man of India, Sardar Vallabh bhai Patel was celebrated, today, full Zeal and enthusiasm here at Sports stadium Poonch.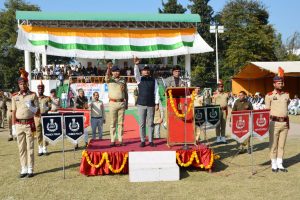 DDC Poonch Rahul Yadav (IAS), SSP Poonch Ramesh Angral, BDC Chairpersons, senior officers of Police and District Administration were present on the occasion. A large gathering of general Public was also present on the occasion. A Run for Unity was organized by District Police Poonch from DC office complex to Sports Stadium Poonch. Afterwards, a unity pledge and March past was held in sports stadium Poonch. DC Poonch took salute from the March Past. The March past was consisted of contingents of Police, Armed Police and CRPF.
Meanwhile, the Oath taking ceremony was held for the newly elected BDC Chairpersons. The oath was administered by DPO Mukhlis Ali. BDC chairpersons of 11 Blocks of District Poonch took oath on the occasion. Prizes were also distributed to the participants Schools and Contingents of March past.