Jammu
"Char Sahibzaade" memorial hockey match organized at Poonch
"Char Sahibzaade" memorial hockey match organized at Poonch
POONCH TODAY NEWS
POONCH: Under the aegis of Hockey J&K, a  hockey match was organized by All India Sikh Student Federation and Sikh Nojawan Sabha in collaboration with NIS Hockey Coach Matinder Pal Singh in the memory of Char Sahibzaade who sacrificed their lives for dharma and motherland.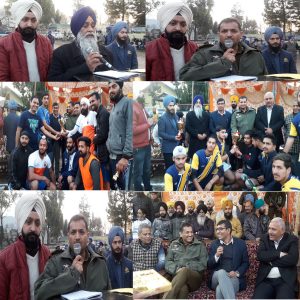 The match was organized under the supervision of S Harcharan Singh Khalsa and was organized by S Mohan Singh, S Matinder Pal Singh and S Gagan Preet Singh. The match was played between Poonch XI and Boys Higher Secondary School Poonch which was won by Poonch XI by 4-3. Salil Raina, Rohit and  Ranveet Singh scored goals for winner team while Shoib, Manpreet and Muhaib scored goals for runner up team.
DDC Poonch Rahul Yadav was chief guest on the occasion, SSP Poonch Ramesh Angral was guest of honour and Chairman Municipal Council Advocate Sunil Sharma was guest of honour Poonch.
Speaking on the occasion, President All India Sikh Student Federation S Harcharan Singh Khalsa  shed  a light on the life history of Guru Gobind Singh Ji and his four sons who attained martyrdom by fighting against the mughal forces. He also demanded starting of work on hockey turf which has been sanctioned by J&K Government in the premises of boys hr. sec school Poonch.
Chairman Municipal Council Poonch Advocate Sunil Sharma lauded the efforts of organizers for conducting the match in the memory of Char Sahibzadee.
SSP Poonch Ramesh Angral , while speaking on the occasion appealed the youngsters to follow the footsteps of Guru Gobind Singh Ji and always stand for the integrity of the nation.
DDC Poonch Rahul Yadav appealed the youngsters to adopt sports as their hobby and guide the next generation towards working for a strong India. He also appealed the youth to stay away from wrong activities.
Later prizes were distributed among winner and runner up teams. Proceedings of the match  were conducted by S Manmohan Singh and S Dilbagh Singh. Among those who were present on the occasion include Editor "Poonch Today" Salil Raina, S Hazara Singh, S Kamaljeet Singh, Prem Parkash Luhtra, Bakshi Khem Raj, Dr Sukhwinder Singh, NIS Hockey Coach Ranveet Singh,  S Damanpreet Singh,  kewal Krishan, and other sports lovers.