Jammu
Election department organises Electoral literacy club
Election department organises Electoral literacy club
POONCH TODAY NEWS
POONCH: Electoral Literacy Club was organised at GHSS Sheesh Mahal Poonch under the supervision of Election Department.
DDC Poonch Rahul Yadav was the Chief Guest on the Occasion. Different activities were performed by the students of GHSS Sheesh Mahal relating to Election system.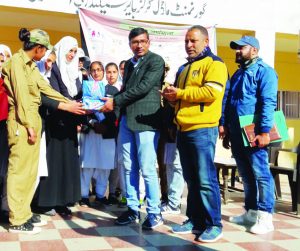 Dy. District Election Officer Vikas Anand was also present on the occasion who also supervise the whole programme. DDC Poonch Rahul Yadav interacts with the students on the active participation in the Electoral system of the country. Later prizes were also distributed to the participants by Worthy DDC Poonch. Principal GHSS Sheesh Mahal, Sabar Hussain, and other staff members also spoke on the occasion and laid emphasis on the electoral system. ELC members including Balvinder Singh, Shakeel Ahmed and others were also present on the occasion.