Jammu
Strong voices emerging from Poonch and Rajouri in  support of CAA, NRC and NPR;Locals said, "We will support every decision of national interest"
Strong voices emerging from Poonch and Rajouri in  support of CAA, NRC and NPR;Locals said, "We will support every decision of national interest"
SALIL RAINA
(POONCH TODAY NEWS)
POONCH: At a time, when few political motivated  protests being sponsored by few opposition parties  are going on in various parts of the country against  CAA, NRC and NPR,  large number of citizens of Poonch and Rajouri have come openly in expressing their support for CAA, NPR and NRC by saying that they will support every decision of national interest.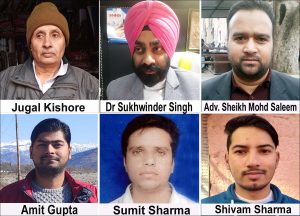 Expressing serious concerns over the role being played by vested interest and opposition lobby against the national interest issues, majority of   citizens said that government needs to take such people to task because they have misused "Freedom of Expression" and "Democracy" and are playing at the hands of  anti national elements.  They said that protecting the country from illegal foreigners is a dire necessity and if government has started to take step in this direction, then it must be supported by all means. Launching a scathing attack on those who are indulging in anti national rhetoric, they said that  few anti national  minded people have taken everything for granted, because they were given full freedom during the last 60 years by political parties whose main interest was just to rule the country. Now, when present government started showing guts to teach wrong forces a lesson, then these political parties have hatched a conspiracy to defame the nation at national and at international level by projecting India as intolerant country. They said that many security forces personal sacrificed their lives for the nation, many terrorists attack were taken place in the country, Kashmiri Pandits were thrown out of valley,  but this anti national brigade never came to roads for them, but now, on the direction of their mentors sitting across the border, they want to destabilize the nation.  While talking to "POONCH TODAY"  Jugal Kishore, a prominent businessman, said, "Congress and few opposition parties have been misguiding minorities that these acts are against them which is far away from truth. NRC has not come yet but Congress is playing vote bank politics, but  unfortunately, minorities are unable to understand the sinister design of opposition parties who are misusing them badly and ultimately, they will be the main sufferers in times to come, because they have exposed themselves badly. They failed to understand that Congress played its political card through them."
Dr Sukhwinder Singh, a social activist said, "Every decision taken in national interest should be supported. All these acts are not against any community and every Indian should understand it with an open mind, rather than becoming victim of cheap politics of opposition parties who are not even sparing national interest issue and are trying to communalize the situation" added "India belongs to all and its the responsibility of every Indian citizen to protect the integrity of the country. If government is bringing any law aim at strengthening the country for the future, then we must accept it whole heartedly."
Advocate Sheikh Mohd Saleem, said, "I fully support CAA, NRC and NPR. But, I urge union government of India not to violate any of the fundamental rights as enshrined under Part III of the constitutional law of India by excluding the Muslims."
Amit Gupta, said, "These acts are not against anyone but for the protection and security of the country from illegal people from few countries who have infiltrated into Indian territory and their number are in several lakhs. Indians have the  first right on our resources and its strange that few people being supported by anti national elements  are creating nuisance." added " Congress over the years gave full shelter to wrong elements of the society and this is the reason that all such forces have joined hands and are now indulging in anti India rhetoric which is really unfortunate."
Sumit Sharma, a resident of Nowshera, while talking to "POONCH TODAY" said, "I congratulate PM Modi JI and Home Minister Amit Shah for taking many bold decisions for the interest of the country. Nothing is more than the nation and I appeal to all Indians to come forward and stand strongly with the union government, because few wrong forces want to disturb the nation on communal lines. They are even indulging in  anti national rhetoric's and such forces should be taken to task strongly."
A youngster of Poonch namely, Shivam Sharma,  said, "Those people who always projected themselves as secular have been exposed badly because they were seen burning public property,  stone pelting and attacking media persons. Its strange  that they were seen chanting anti national slogans and proved themselves as anti to national interest polices."
Likewise, more people while talking to "POONCH TODAY" have expressed similar views in favour of CAA, NRC and NPR, but preferred not to come openly. They have openly demanded tough action against those forces who are trying to destabilize the nation by indulging in  anti India rhetoric's.