Jammu
B2V3: Village campaign receives massive public response across 70 panchayats in Poonch
B2V3: Village campaign receives massive public response across 70 panchayats in Poonch
POONCH TODAY NEWS
POONCH: The day one of the ambitious "Back to Village" program commenced here across 70 panchayats of this border district witnessing overwhelming response of the villagers.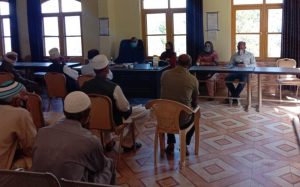 The designated visiting officers visited assigned Panchayats and held interaction with the people from including PRIs, senior citizens, retired Government employees, women and youth. They put forth demands and issues of their areas and sought improvement of drinking water supply, better power supply, enrollment of farmers in PM Kisan scheme, provision of electrical poles, repair of damaged roads, old age pension to all eligible persons etc.
The visiting officers gave a patient hearing and documented the same. They assured the public that all their genuine grievances shall be redressed in a phased manner. They also interacted with the field functionaries of the departments and asked them to put in their best efforts to provide all the essential services to the general public at their doorsteps.
The frontline workers of different departments made the people aware about various schemes and the flagship programmes being implemented by their departments and urged upon them to avail the benefits of the same.
The visiting officers inspected development works in the panchayats, PHCs, water supply schemes and the traditional water bodies.