Jammu
Connecting People with Admin main Objective of B2V3: Advisor Bhatnagar
Connecting People with Admin main Objective of B2V3: Advisor Bhatnagar
POONCH TODAY NEWS
BARAMULLA: Advisor to Lieutenant Governor, R Bhatnagar today said that connecting people with the administration for efficient and smooth public service delivery is the main objective of 3rd phase of Back to Village programme.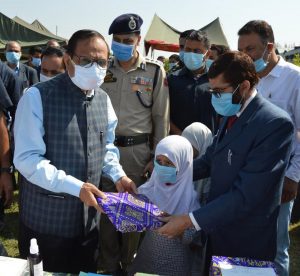 He said that government has launched an array of B2V campaigns in order to empower panchayats so that fruits of development percolates at grass root level. Advisor was speaking at a mega function organized in village Mirgund B of Singhpora block to kick-start the 3rd phase of ambitious 'Back to Village' programme in district Baramulla.
Urging people to come forward with their developmental aspirations and needs, the Advisor informed that government is keen towards achieving saturation in individual beneficiary schemes. Reiterating the administration's commitment for providing essential services including power and water supply, health services in a smooth and hassle free manner, Advisor Bhatnagar said that concerned functionaries are being mobilized with special focus to rural and remote areas. Moreover, he said that various initiatives are being launched to improve the public service delivery viz-a-viz extending governance at the peoples door-steps. He also urged upon them to play a proactive role in the journey of development. During the visit, the Advisor inspected various stalls installed by several departments like Horticulture, Agriculture, education and others displaying their programmes and services. The Advisor also distributed several equipments/kits/certificates sponsored by horticulture, agriculture, education, revenue, labour, youth services and sports departments among the beneficiaries. He also distributed cheques worth Rs 31.19 lakh as financial assistance among some registered labour beneficiaries. The Advisor also administered Swachhta Pledge to the officers and others present on the occasion of Gandhi Jayanti wherein it was affirmed to devote some time on maintaining cleanliness of our surrounding.
On the occasion, Deputy Commissioner Baramulla Dr G N Itoo presented a brief developmental profile of the district besides other achievements recorded in various sectors during the previous phases of B2V to the Advisor. He also highlighted the outcome of the recently concluded Jan Abhiyan campaign and said that an overwhelming response of the public was received for which he expressed gratitude of the people. He also applauded the role of different stakeholders who extended their cooperation in comabting COVID-19 outbreak. Visiting officer to the village Mirgund B and Director Floriculture Farooq Ahmad Rather complimented the participants and highlighted the objectives of the programme. He presented the status of previous issues and demands that were raised during B2V1 and B2V2 and said that all the demands are being properly taken with the concerned authorities for their redressal. He added that several developmental works that were identified and subsequently approved were affected by the outbreak of COVID-19 pandemic and now the work on such projects have been restored and shall be completed as early as possible. Various deputations which include BDC chairpersons, PRI representatives among others highlighted their issues and demands meant for the overall development of the area wherein they sought the Advisor's personal intervention for resolving them in a a stipulted timeframe. SSP Baramulla, SDM Pattan, heads of various departments, district and sectoral officers besides a huge gathering of people showed their overwhelming participation.