Jammu
"POONCH TODAY" Completes Eight victorious Years
"POONCH TODAY" Completes Eight victorious Years
With the blessings of Bhagwan Shri Krishna, Its an enormous opportunity for me to announce that yours own trusted newspaper  and a bold voice from Jammu region, namely "POONCH TODAY", has successfully completed eight victorious years of daring journalism, amid huge pressure from every corner, reason, the paper followed the path of bold and truthful journalism in national interest.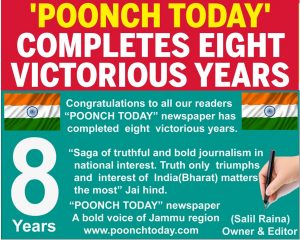 Walter Lippmann, once said, "There can be no higher law in journalism than to tell the truth and to shame the devil" and "POONCH TODAY" has been following the same  as we believe in calling a spade a spade. "POONCH TODAY" faced huge pressure from all the corners, right from the publication of very first issue, because the newspaper always exposed those who were involved in corruption and were standing against the public and national interest. In spite of huge pressure and threats, the newspaper never bows down to the wrong, arrogant, powerful and tainted forces. During these eight years of journey, the paper got huge response from all the sections of the society and has become one of the most credible and bold voices in Jammu region from Poonch and Rajouri districts  The newspaper highlighted every issue of public importance, communal harmony, national interest, development and other important issues and because of its truthful and daring journalism, the newspaper has respectable readership including  more than six lakh social media readership till now and is increasing day by day. Mostly, the newspaper exposed corruption and wrong elements of the society and faced huge pressure from them, but in the end, it was the strong determination of this newspaper that it beat all those forces, which were standing against the truth and national interest.  Huge efforts were made from various quarters to curb the bold and truthful voice of this newspaper, but every time, it was "POONCH TODAY" that emerged victorious and those, who tried to curb the truth, had to taste the dust. With strong determination in future also, "POONCH TODAY" shall try its best to maintain the tempo of bold and truthful journalism in national interest only.  This newspaper's fight against injustice, corruption and wrong elements of the social order will continue to remain the same. It doesn't matter who(Wrong forces of the nation) stand against us as we believe that "Truth only triumphs" and interest of India(Bharat) matters the most.
In the end, "POONCH TODAY" is thankful to all its readers for their strong faith and support to our courageous journalism. Nation first.  JAI HIND.
SALIL RAINA
(Owner & Editor-in-Chief)