Kashmir
DC Srinagar reviews Covid-19 situation, containment measures; Directs for achieving set vaccination target, strict enforcement of CAB
DC Srinagar reviews Covid-19 situation, containment measures; Directs for achieving set vaccination target, strict enforcement of CAB
POONCH TODAY NEWS
SRINAGAR: The Deputy Commissioner (DC) Srinagar, Mohammad Aijaz Asad chaired a meeting to review the present Covid-19 situation and containment measures undertaken to control the spread of infection in wake of 3rd wave as warned by the Medical Experts.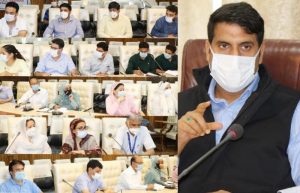 While taking stock of the preparations to tackle any such medical emergencies, the DC asked the Health functionaries to strengthen health infrastructure with focus on pediatric care units.
With regard to ongoing Covid-19 vaccination, the DC directed the Chief Medical Officer and all Zonal Medical Officers to scale up the percentage of the vaccination in Srinagar district. He stressed them to achieve the set target by inoculating Vaccine doses to all eligible persons to break the transmission/ chain of infection in the district. He also stressed on efficient contact tracing.
The DC also directed for collecting details about the vaccination of Staff and Students of all Colleges and Universities in Srinagar for further course of action regarding opening of Educational Institutions.
While taking strong note of violations with regard to Covid Appropriate Behaviour, the DC directed all Tehsildars of Srinagar to strictly enforce Covid protocol and take administrative actions against the violators. He asked Tehsildars to involve Religious leaders and other influencers to motivate people to adhere to Covid-19 SOPs in letter and spirit.
The DC further asked the concerned officers to enforce strict restrictions in all notified Containment Zones to ensure its effectiveness and restriction of outward movement to prevent any spread infection of Covid-19.
SDM East, Owais Mushtaq, SDM West, Akhshay Labro, Chief Medical Officer, Dr Jameel, all Tehsildars, all Zonal Medical Officers and other concerned were present in the meeting.