Jammu
Will Paharis get ST status after massive shows of J&K BJP president Ravinder Raina in Poonch, Rajouri districts?
Will Paharis get ST status after massive shows of J&K BJP president Ravinder Raina in Poonch, Rajouri districts?
SALIL RAINA
(POONCH TODAY NEWS)
POONCH/RAJOURI: J&K UT BJP president Ravinder Raina has got a tremendous response from the people of Poonch and Rajouri districts over the saffron party's promise to grant ST status to Pahari speaking people soon.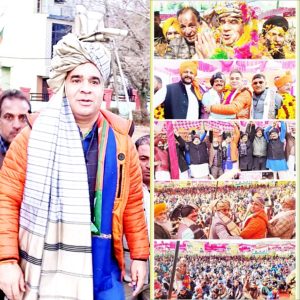 Political observers believe that this was for the first time in several decades that BJP got such a big response in twin border districts of Poonch and Rajouri which remained favourite districts for Congress, NC and PDP for decades. Paharis, who have been fighting for their genuine demand of ST status for three decades now hope that the assurance given by Home Minister of India Amit Shah will be fulfilled soon. Ravinder Raina, was on his tour to Poonch and Rajouri districts to assess the ground situation. Raina said, "Modi ji gave everything to Gujjar community including Forest rights act, ban on inter district recruitment removed and political reservation besides other things, now it's time for the government to solve issues of Paharis. I hope, Modi ji will fulfill the demand of Paharis." Raina was accompanied by Devinder Rana, Vibodh Gupta, Pardeep Sharma, M.R Chisti, Mohd Iqbal Malik, Sunil Gupta and others. Raina was given a thundering response in Surankote, Mandi, Poonch Haveli and Mendhar tehsils of Poonch district. During his rallies all over the district, Raina also hinted that the BJP led NDA government will grant much deserved ST status to Paharis sooner than later as it was promised by the Union Home Minister Amit Shah. All BJP leaders praised the people of Poonch and Rajouri for maintaining decade's old brotherhood and communal harmony. It is pertinent to mention here that after the announcement of Home Minister Amit Shah regarding fulfilling demand of  Paharis, a massive political war has break out between Gujjar and Pahari community leaders in which a few Gujjars leaders were seen spitting venom against Paharis by trying to divide the Paharis by saying that "Hindus and Sikhs cannot get ST status". A Pahari leader wishing anonymity, told "POONCH TODAY" "Paharis were at S.No 1 when J&K government recommended ST status for Paharis more than three decades ago, but under a well planned conspiracy against the Paharis, the then union government failed to grant ST status to Paharis. Despite that step motherly treatment, Paharis never uttered a wrong word against Gujjar community members for three decades, but continued their struggle in a most genuine way" added "But it's painful to see that few Gujjar leaders, a few govt employees and a few retired officers were seen spitting venom against Paharis. Few even collected guts to divide the Paharis with their mischievous statement, particularly against Hindu and Sikh communities which is very much unfortunate". Another Pahari leader said, "ST status is our long due right and we will get it, but like our few Gujjar leaders, we will not utter any thing wrong against our Gujjar brothers because we belong to Pahari tribe and god has given us good senses not to target people on the basis of cast, colour and creed." The body gesture of BJP leaders of Poonch and Rajouri district shows that they know that the Union government will grant Paharis their much deserved ST status soon. In reality, Gujjars and Paharis have the same culture and living conditions and they have been living together for centuries, but few political leaders tried to create a wedge between them for political reasons. A youth Pahari leader said, "Why few Gujjar leaders are opposing our demand of ST status? When they got under questionable circumstances, we never opposed, but why are they opposing ST status to Paharis?" added "They now have launched a propaganda that Paharis are upper caste and don't deserve ST status. Sometimes, they divide Paharis by opposing Hindus and Sikhs in ST status.  Indian Parliament is supreme and let it decide. Mere propaganda won't work against Paharis. It shows few Gujjar leaders have the wrong mindset which is very much unfortunate. Categories were only for ten years and they enjoyed ST status for three decades and produced many officers. It's astonishing; few Gujjar leaders still consider themselves as backward after enjoying the ST status for three decades. We never opposed them, instead, we used to call them staunch Indians with huge respect, but look at their unfortunate attitude and wrong propaganda." Paharis and Gujjars are just like brothers and all out efforts must be made to reduce the emerging difference between them. Government has given them everything including ST status, political reservation, Forest rights and removed ban on inter district recruitment, but Paharis got nothing. Paharis and Gujjars are the same in every thing, but Gujjars got ST status and Paharis were denied the same.  If Paharis are on the verge of getting the ST status, then Gujjars must welcome it rather than opposing, feel political observers. On the other hand, BJP has gained much in Poonch and Rajouri districts over the issue of ST status to Paharis and it would be interesting to see how BJP manages to maintain this posting till elections are held. Paharis are highly hopeful to get the same and the repeated gestures of Ravinder Raina have shown this.