Jammu
Fearless, honest, real leader of masses and a saintly figure  Sher-E-Poonch Yashpaul Sharma's era has ended with pride
Fearless, honest, real leader of masses and a saintly figure  Sher-E-Poonch Yashpaul Sharma's era has ended with pride
SALIL RAINA
(POONCH TODAY NEWS)
POONCH: 22nd of January 2022 will be remembered as a sad day for the people of J&K, especially of Poonch district when the voice of poor and downtrodden sections of the society, fearless, honest and a saintly figure, ex-MLC Sher-E-Poonch Yashpaul Sharma's golden era was ended as  the voice of million left for his ultimate journey.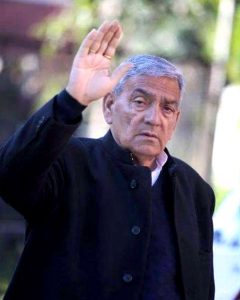 This news spread like a wildfire and everybody was shocked to hear the untimely demise of Yashpaul.  Bold and straightforward, Yashpaul was blessed with a huge confidence to stand alone, had the courage to make tough decisions, and the compassion to listen to the needs of others. He ruled hearts by the equality of his actions and the integrity of his intent. Many big political powers of the erstwhile state of J&K were fully known of the qualities of Yashpaul and due to this fact, none of the big leaders dared to stand in front of him because of his bold and honest approach. He was considered as the only real mass leader in the history of Poonch and Rajouri, who, without caring for power, helped the masses and even forced the then state government to amend recruitment rules for the people of Poonch city. When there was complete injustice with the people of Poonch city in recruitment  related issues, after the then popular government tried its best to curb the voice of the educated people of Poonch city by denying them recruitment opportunities by selecting its own people who were less educated. When there was total chaos and the then national conference regime was hell bent to play foul with the people of Poonch, Yashpaul Sharma then emerged as an "Avtaar" for the people of Poonch and started a mass 1978 agitation against the then state government by raising the world famous slogan "Nahre Durli Pejao Pejao" and this agitation shook the foundation of the national conference government by all means. When the then chief Minister failed to control the agitation through his subordinates, he decided to visit Poonch, but the fearless and courageous Yashpaul and his cadre did not allow Sheikh Abdullah to enter Poonch and Abdullah was forced to leave back from Kalai area. As there was a strong political tussle of Yashpaul Sharma with the then National Conference leadership over injustice mooted out to the youth of Poonch in recruitment related issues and the insult faced by the then Chief Minister at the hands of Yashpaul Sharma, so that forced the NC cadre to script a long term strategy against the people of Poonch and slowly and silently, many controversial acts targeting private and government lands of Poonch city came into action in a quiet way.  That was the big ploy by the national conference government against the people of Poonch city who were strongly behind Yashpaul. The then NC regime wanted to teach a strong lesson to the people of Poonch city and as a result many foul plays were executed, but shocking was that the said conspiracy was exposed after thirty years and still has not been addressed by the government. However, the mass agitation of 1978 forced the Sheikh Abdullah government to surrender before Yashpaul Sharma and ultimately session-cum-merit criteria was implemented and as a result of that, maximum educated city people got government jobs and this session-cum-merit formula remained active for more than one decade. Yashpaul Sharma, who was the real leader of masses, came to this universe on 2nd of January 1946 at Rawalakote. However, due to the turmoil in India and Pakistan, his father Late Master Labhoo Ram, along with his entire family left Rawalakote and migrated to Poonch. After witnessing struggle during his early life, Sharma graduated from Degree College Poonch and later did his LLB.
During his youthful days, Yashpaul was a brilliant sportsman and his name remained among top Indian athletes. He was a great Kabaddi, Football and a Javelin throw player. He even got an opportunity to play at an international level, but due to lack of resources, he missed that opportunity. He mobilized youth from every area and impressed them to use their energy in sports activities. Yashpaul was blessed with huge physical power, but he never misused his gigantic physical power which was blessed upon him by the God, instead, he used that power fully in public service. On his huge contribution in the field of sports, people from every section of the society have appealed to the government to declare sports stadium Poonch in the name of Late Yashpaul Sharma, who was a fatherly figure for the people.
Fond of public service right from his childhood by following the footsteps of his father Late Master Labhoo Ram, Sharma fought the first election of Municipal councilor from ward no 9 and won with respectable votes. After the successful 'Nahre Durli' agitation, Yashpaul became the voice of the people and fought Poonch Municipality elections of 1980 and won eight seats out of a total of nine seats and became president of the council. As there were less sources of income of Municipality during those times, Sharma formulated a strong policy of revenue generation and used that revenue for the extraordinary development of Poonch city. The quality and standard of works started and completed by Yashpaul Sharma remained intact for nearly three decades. The stature of Sharma was very high in the eyes of big political leaders of erstwhile state of Jammu and Kashmir. Yashpaul was a blunt and bold leader. Even a few crooked Deputy Commissioners, SSPs and other top ranked officers were afraid of him due to his honesty. It is pertinent to mention here that during the 1978 agitation, Sheikh Abdullah tried every possible move to break Yashpaul's cadre, but it was the strong determination of Sharma that every foul move scripted by the then local national conference leadership and Sheikh Abdullah proved a big failure. Those days, there were no powerful media platforms and this 1978 'Nahre Durli' agitation was covered by the world renowned media platform BBC. For days, the BBC remained involved in the happenings of the 1978 agitation. People of entire J&K have not seen yet another version of the Yashpaul's lead 'Nahre Durli' mass agitation of 1978 after that, because it was a total people's agitation for justice. However, few agitations were scripted in J&K after the onset of militancy, but none of the agitations matched the 1978 agitation because that was the agitation by the youth against the government for their well deserved employment rights. Yashpaul,  who won million hearts during his 48 years long political and social career, never bowed down before any high profile leader or before any officer, infact, those leaders and officers, who ever wanted to meet him, used to come to his home. While facing injustice, Yashpaul did not spare Sheikh Abdullah, Ghulam Nabi Azad and even PDP president Mehbooba Mufti, because Yashpaul was very much clear in his agenda of honesty and people friendly decisions. During militancy days in J&K, It was only Yashpaul, who helped innocent people from falling into the clutches of security forces on doubtful information. Yashpaul was even seen mostly going to police stations without wearing shoes, just to save the innocent people, who remained victims of militancy related conspiracies. Yashpaul was purely a people's man and during his stint as President of Municipal council Poonch, he led from the front development in Poonch city. Due to his massive popularity, Yashpaul fought assembly elections from Poonch Haveli constituency as an independent candidate and fought strongly, but luck was not by his side as he lost just by a margin of 1300 votes and the then national Conference candidate Ghulam Ahmed Ganai won the seat. After fighting the 1983 assembly elections as an independent candidate, Yashpaul decided to join Congress, but as expected, Yashpaul was given the cold shoulder in the country's grand old political party. However in 1987 assembly elections, Yashpaul decided to remain silent and played a smart move by supporting Ch Bashir Ahmed Naaz towards a massive victory. After ensuring victory for Ch Bashir Naaz, Yashpaul left congress because he was again expecting the same cold shoulder response from the Congress leadership and later he joined Jan Morcha which was formed by former Prime Minister of India V.P Singh. Yashpaul joined Jan Morcha after consultations with Mufti Mohd Sayeed who was considered as Yashpaul's friend in political circles. However, the stay of Yashpaul and Mufti Sayeed in Jan Morcha was short-lived because both the leaders later joined Janta Dal. After the onset of militancy in the erstwhile state of Jammu and Kashmir, all political leaders of various parties went underground, but it was only Yashpaul, who remained active during militancy and helped the innocent people and security forces against militants. On one hand, Yashpaul helped Police and Army in their war against terrorism, but on the other hand, hardcore nationalist Yashpaul was on forefront in saving the innocent people who became victims of political tussles during militancy days and were branded as sleeper cells of militants. Yashpaul was the only messiah of people who was active during militancy days, but those power hungry politicians, who used to appear before the public only during peaceful and election days, went ungrounded. However, when the government of India decided to conduct assembly elections in J&K after reduction in militancy, Yashpaul decided to contest a second time, but this time on the mandate of Janta dal. After fighting hard against Late Ghulam Mohd Jan, Yashpaul  fell short by nearly 5428 votes and managed to get 10722 votes. NC candidate G.M Jan got 16150 votes. Until a few last rounds, the victory of Yashpaul was certain, but the last two rounds played spoiler  and Yashpaul lost the elections. But look at the broad minded and big heart of Yashpaul, he never allowed his workers to create chaos after reports of wrong counting inside the counting hall came to fore as his cadre was forcing him to press for re-counting. But with a warm heart, Yashpaul accepted the defeat and directed his cadre not to create disturbance in the peaceful atmosphere of Poonch and due to this very quality, he was loved and respected by all. After this defeat, Yashpaul decided to join Congress again, because he impressed the Congress high command with his performance and with his huge public acceptance. But later, Yashpaul joined PDP in which was formed by his long time friend Mufti Mohd Sayeed in 1999, but what forced Yashpaul to leave PDP near assembly elections of 2002  has remained a big mystery till date. Before 2002 elections, Yashpaul joined Congress and got a mandate to fight as a Congress candidate, but again, bad luck encountered him and he fell short of creating a history just by 646 votes.  G.M Jan got 27364 votes and Yashpaul got 26718 votes. Completely dejected from all angles, his cadre was all set to question the counting process, but again, Yashpaul preferred the interest of peace in Poonch and decided not to challenge anything. Silently, he walked out of the counting center and went to his home with his cadre amid pin drop silence on account of facing defeat just by 646 votes. But life was all set to give Yashpaul a big surprise. After 2002 assembly elections, PDP won respectable seats and formed a coalition government with Congress and Mufti Sayeed became Chief Minister. Political thinkers who were watching the development closely said that Mufti was completely shocked when Yashpaul left PDP just before the 2002 elections, but after Mufti Sayeed became Chief Minister, he was due to give Yashpaul a cold shoulder and the same thing happened. After becoming Chief Minister, Mufti visited Poonch and never met Yashpaul. However, people close to Yashpaul told "POONCH TODAY" newspaper that there was an impression in the people of Poonch that PDP  supported the ideology of militants and that's why no body would vote for PDP in Poonch district, that's why Yashpaul left the PDP, but what happened after that, is a history. Despite getting political setbacks regularly, Yashpaul never lost his courage and remained active in solving public grievances. When the Municipality elections were conducted in 2005 after a long time, Yashpaul managed to formed Poonch Municipality with a thumping majority and installed his, the then trusted friend Advocate S Rajinder Singh, who was prominently known as Kaka Vakeel, as president of Poonch Municipal council, however, some differences were emerged between Yashpaul and S Rajinder Singh and as a result, Rajinder Singh Advocate later joined Congress. Both Yashpaul and Rajinder Singh remained a joint force for over two decades, but what led to the differences between Yashpaul and Adv Rajinder Singh is still unknown. However, in 2007 by elections in Poonch haveli constituency, which took place after the death of the then MLA Ghulam Ahmed Jan, Yashpaul was denied mandate by Congress and this irked Yashpaul badly. After receiving the news of denial of mandate to Yashpaul by Congress, his mother died in shock. Many congress leaders tried to pacify Yashpaul, but Yashpaul Sharma, completely in an angry mood did not allow Congress top brass to meet him and he decided to fight as an independent candidate on the sign of two candles after leaving Congress abruptly just within days of the death of his mother. Congress was in power and Ghulam Nabi Azad was Chief Minister and he put in whole machinery just to ensure defeat of Yashpaul. Majority of Ministers came to Poonch just to support Jahangir Hussain Mir to ensure defeat of Yashpaul. But again luck stood against Yashpaul and he lost to Jahangir Mir by a few thousand votes and stood at second position.  Jahangir Mir got 20697 votes, Yashpaul got 16299 votes while NC candidate Ajaz Jan remained third with 16227 votes. However in the 2008 assembly election, Sharma indirectly supported Ajaz Jan to win. After that, Yashpaul again joined PDP and remained silent in political circles, but was very active in solving public issues. In February 2013, his long time friend Mufti Mohd Sayeed made him Member Legislative Council(MLC) and no political party fielded a candidate against Yashpaul to ensure his smooth entry into the legislative council, because all political parties were well aware of his character and honesty. In 2014, on the advice of Yashpaul, Mufti Mohd Sayeed gave PDP mandate from Poonch Haveli constituency to Shah Mohd Tantray and ensured his victory over Ajaz Jan and Choudhary Gani. However, differences also emerged between Tantray and Yashpaul. After the demise of Mufti Mohd Sayeed, Mehbooba Mufti became Chief Minister, but some decisions of Mehbooba  were not acceptable to Yashpaul and as a result, he decided to remain silent.
However, in 2019 municipality elections, Yashpaul's team, fought independently and managed to win five seats and later with the support of five councilors indirectly supported by National Conference leader Ajaz Jan, Yashpaul installed his younger brother Advocate Sunil Sharma as President of Municipality who has just completed more than three years.
On one hand, Yashpaul was a towering political, social and a religious personality of J&K, but on an unfortunate side, he was dejected and backstabbed by all those, who were pampered and brought to active political and administrative chairs by Yashpaul on several occasions.  Another aspect of his political failures to become an MLA was due to the hard fact that he was not surrounded by competent advisors, instead, he was surrounded by sentimental persons, who loved him from their hearts, but they say that politics is not a sentimental game. Here, every move should be planned in a far sighted manner and absence of bright advisors in his cadre remained the only reason that Yashpaul never won an MLA election.  Majority of big political leaders over the years used to have great people as their political advisors and Yashpaul, despite ruling people's hearts for decades, was unlucky to have a political think tank around him.
In addition to public service in his political and social life, Yashpaul did a lot for the renovation of few old temples and constructing a big and the only "Navgrah" temple in entire J&K, which has attracted the attention of one and all. This temple has become an epicenter of religious tourism. Those devotees, who come to Poonch to visit religious places life Nangali Sahib, Ziarat Sian Ilahi Baksh, Baba Budha Amaranth at Mandi, used to visit this unique temple also. After serving the people in his several capacities, Yashpaul said final goodbye to the people of Poonch on 22nd of January 2022.
Now, the golden era of Yashpaul has ended and it would be interesting to see who will dare to carry forward the fearless, honest and leader of masses image of Yashpaul further. Yashpaul left behind two younger brothers and two sons who are also very much active in political and social circles. Dr Sushil Sharma, is a renowned Cardiologist of the country and has done a huge public service during his long meritorious career in the medical field. Dr Sushil is a widely renowned and a respectable figure and those in powers, whether in civil, police, political or social setup across the J&K UT and the country admire him a lot because of his selfless and meritorious service for the people, while his another brother Advocate Sunil Sharma is right now president of Municipal council Poonch. His two sons Kirti Pal Sharma and young Udeshpaul Sharma are also very active in public service. Both, Kirti Pal and Udesh Paul Sharma, reportedly have the same qualities of boldness and honesty which Yashpaul used to have. Now, who will carry forward the golden legacy of Yashpaul? It's a million dollar question being discussed everywhere and all eyes are now on the family of Yashpaul. Will Yashpaul's family members put all speculations to rest and announce something big for public service by following the footsteps of Late Yashpaul Sharma? A major decision related to this is likely to come in public domain, sooner than later. Yashpaul's long political and social journey for public cause is an eye opener for all leaders of J&K and the benchmark of selfless public service established by Late Yashpaul is difficult to be matched by any leader in future, because politics now a days has become an epicenter of lust, money and muscle power and not real public service.(The writer in an Owner and Editor-in-Chief of POONCH TODAY newspaper)