Poonch Today
Is the nation heading for Uniform Civil Code, other strong laws of importance of national security?
Is the nation heading for Uniform Civil Code, other strong laws of importance of national security?
SALIL RAINA
(POONCH TODAY NEWS)
POONCH: A few neighbouring countries of India are facing their worst crisis, but India under the leadership of Prime Minister Narendra Modi has achieved new heights, particularly from development and security points of view. Although forces inimical to peace have been trying every possible  way to disturb the country, the union government has been playing smartly in discouraging such moves.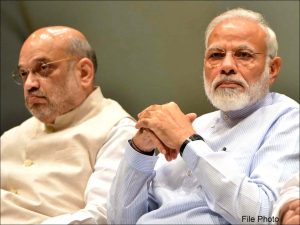 Facing huge pressure from every corner, Prime Minister Narendra Modi is confident to take the nation to more heights. After becoming Prime Minister second time,  Modi led union government had taken very big decisions during the first few months of governance which included abrogation of temporary articles 370 and 35-A . As there were huge speculations about government brining Uniform Civil Code and other important bills, but emergence of COVID-19 crisis had put brakes on the government's planning. Before the onset of COVID-19, PM Modi, during his public speech, said, "Yeh toh abhi trailer hai" and this statement of PM Modi was a clear indication that the government had planned to bring many bills of national importance, but the emergence of COVID spoiled all plans. PM Narendra Modi's commitment for the protection and safety of each and every Indian was evident from his national address on the outbreak of COVID-19, in which he clearly mentioned that lives of 135 crore Indian citizens were important for him and nothing else. He also appealed to the people of India to follow the lockdown which he announced on 24th of March 2020 and thereafter, lockdown was extended time and again, keeping in view the rise in COVID-19 cases. Although, COVID-19 had put brakes on the government's developmental and national interest agenda, priorities of the government like Uniform Civil code, CAA, NRC, Population Control bill remained very much clear. During COVID-19 crisis, the nation also witnessed stone pelting incidents on Corona warriors and those incidents shocked the entire country that some wrong elements were keen to disturb the internal situation of the country through their various well scripted dramas. Although the union government is facing a crisis from all directions under a well planned agenda of anti national forces, the Modi-Shah duo is keen to shape a new India for the future with many big decisions, which are in pipeline, are likely to see the light of the day in near future. Although, Narendra Modi led government had taken various big decisions during the last three years which include, all farmers covered under the PM Kisan Yojana, Ensuring pension to farmers, labourers, shopkeepers, Ministry of Jal Shakti constituted,  Special fund of Rs. 25,000 crore for completing housing projects for the middle class, Regularising unauthorized colonies which benefited 40 lakh people of Delhi, Law related to triple talaq, Law for strict punishment against child abuse, Chit fund scheme fraud prevention law, National Medical Commission Act, Historical reduction in corporate tax, Strict law to prevent road accidents, Appointment of CDS, Delivery of next generation fighter plane to the country, Bodo Peace Accord, Brue-Reang Permanent Settlement, Formation of Trust for a grand Ram Temple, Decision to revoke article-370, Decision to make Jammu, Kashmir and Ladakh Union Territories, Citizenship Amendment Act to mention a few. However, the biggest achievement of the union government was scrapping Art 370 and 35 A in a planned manner and that decision was executed in a well planned manner and shocked many countries including Pakistan. A few Kashmiri leaders, who believed in considering J&K as their ancestral property, were given a huge setback by the government. Hurriyat leadership which was dancing to the tunes of Pakistan, also found itself nowhere when the special provision was scrapped. Without firing a single bullet, the union government succeeded in fulfilling the promise made to the people of the country. The country also witnessed massive protests over CAA and those protests were not accidental, but were organised with a big planning for the future and even PM Modi indicated this once during a speech. Now the pin drop silence of PM Modi and Amit shah on the ongoing internal security scenario  indicate that they are keen to take many decisions of national interest including UCC and such big decisions are likely to see the light of the day after India gets a new president and vice president soon.  One thing is very much clear from the last eight years performance of Modi's governance shows that this government believes in doing work on ground with perfect homework, in spite of facing huge political and other types of internal and external pressures. Although the country has been witnessing many unfortunate hate incidents being scripted by anti national forces, the government seems to have decided to bulldoze all wrong forces by enacting strong laws.    There is no doubt that Modi's foreign diplomacy has surprised many countries and also has placed India on  path of a global leader due to India's clear intentions for the whole world in every form and  going by the  gesture of government,  something big is going to come, sooner or in near future, and that may give a massive shock to those forces which always stood against the national interest, on the directions of their mentors sitting across the border. The strong action being taken by Uttar Pradesh Chief Minister Yogi Adityanath against anti social and anti national elements is a clear indication that this government being led from the front by PM Modi is not going to spare wrong forces despite the fact that such forces have been trying to build huge pressure on government under a well planned conspiracy.  The recent exposure of PFI plan to make India as an Islamic nation by 2047 and questionable media reports of former Vice president Hamid Ansari's link with a Pak journalist cum ISI agent have given a big surprise to intelligence agencies and the process of decoding more such plans is going on at all levels.  Although the negative forces have been trying everything to disturb India, but having back of crores of nationalist mindset people, the Modi government is likely to bring Uniform Civil Code and many other strong bills which are purely in national interest in near future, if not in monsoon session. The intentions of the government are clear that  there would be no compromise with national security. The country will be run by the constitution and not by any other means.