Jammu
SSP Poonch Rohit Baskotra declares open 32nd District Table Tennis Championship
SSP Poonch Rohit Baskotra declares open 32nd District Table Tennis Championship
POONCH TODAY NEWS
POONCH: SSP Poonch Rohit Baskotra, today declared open 32nd District Table Tennis Championship  being organised by Poonch District Table Tennis Association under the aegis of J&K Table Tennis Association. Superintendent Jail Ms Rajni Sehgal, Chairman Municipal Council Poonch Advocate Sunil Sharma, CO 39 RR Col Ashok  Kumarwere guests of honour on the occasion.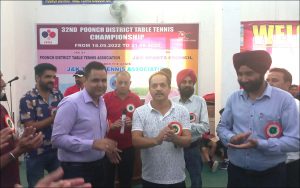 Noted Anchor Pardeep Khanna conducted the overall inaugural ceremony and introduced table tennis association's achievements of the last more than 30 years with the chief guests and audience. Shedding a light on the history of the Table Tennis Association in Poonch district, Er Saleem Bandey, general secretary of the Association said that after three decades of struggle, an indoor complex was constructed at sports stadium Poonch. He also said that more than 200 players have played at the UT and national level due to the efforts of the association. "In addition to strengthening table tennis in this border district, we have produced many national players who got government jobs in different sectors and in multinational companies." Bandey also thanked the government for the new table tennis hall which is under construction.
Prof Dr Jasbir Singh, Vice President of the association was also present on the occasion and said that the association has faced multiple challenges during its thirty five years of journey.
Ajeet Singh Jeet, president of the Association, exhorted the participants to play the tournament with discipline and show true sportsmanship.
Earlier, senior players were honoured by the association included Ajeet Singh Jeet, Sagar Sharma, Sumesh Raina, Mohd Nawaz Rathore, Ajaz Rasool Mir(SP), Er Sham Singh, Jaswant Singh, Nadeem Shah, Daleep Singh, Gurmeet Singh, Rabinder singh, Dr Puneet Kar, Jagjeet Singh, Ravinder Singh, Narinder Singh, Gaganpreet Singh, Vivek matoo, Riaz Ahmed, Dr Manmeet Singh. , Dr Vivek Arya, Dr Puneet Kar, Sumesh Raina, Dr Manmeet Sin. Ms Rajni Sehgal, Superintendent Jail and President Municipal Council, Advocate Sunil Sharma appreciated the efforts of the association in popularising the game for the last more than three decades and assured full support to the association.
Speaking on the occasion, SSP Poonch, Rohit Baskotra(JKPS) said that he felt extremely happy to know that the table tennis association Poonch has done a tremendous job in this border district. SSP also advised the youngsters to play the game in a true sense of sportsmanship. He also said that Poonch police has launched a massive war against drugs and youth must stay away from the wrong menace of excessive use of mobile. SSP assured full support to the association for the future and stressed upon the association members to produce more players of national level.
Prominent people of Poonch who were present on the occasion were Taj Mir, Prem Parkash luthra, Imtiaz Bandey, Riaz Ahmed, Manmohan Suri, Devinder Dabour, Sandeep Luthra, Salil Raina, Zafar Shah, Faisal, Sanjay Kumar, Sanjeev Gupta, Syed Imran Shah, Bashir Ahmed Khakhi. More than 70 players have confirmed their entries in different age groups. Matches in different categories will be played tomorrow.