Jammu
Salil Raina clinches Men's single Table Tennis  Title 24th time, Vanshika wins women's, Zaffer wins junior, Bandey wins veterans, Arushika wins Sub junior girls, Junior title
Salil Raina clinches Men's single Table Tennis  Title 24th time, Vanshika wins women's, Zaffer wins junior, Bandey wins veterans, Arushika wins Sub junior girls, Junior title
32nd District T.T Championship concludes
POONCH TODAY NEWS
POONCH: Salil Raina beat Sandeep Luthra,  in the men's singles final in a keenly contested match in the concluded 32nd District Open Table tennis championship being organised by District T.T Association Poonch under the aegis of J&K T.T Association.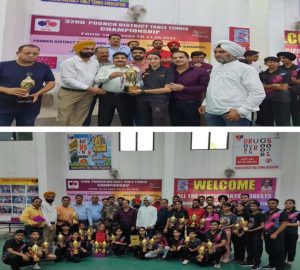 Salil Raina won in straight three sets with the set score 11-9,12-10,11-9. This was Salil Raina's 24th overall men's Singles title of the career. Earlier Salil Raina, after winning pool matches, beat Gaganpreet Singh in a tough semi-final by 11-9,11-7,9-11,12-10 while in second semi-final, Sandeep Luthra bt Pranav in a nail biting finish by 11-7,11-9,9-11,8-11,12-10. In Veterans singles, Er Saleem Bandey beat Dr Jasbir Singh by 11-9,11-4,11-9. Earlier Saleem Bandey, after winning pool matches, beat Riaz Ahmed in the first semi-final by 12-10,11-7,11-8 while  in the second semi-final, Dr Jasbir Singh beat Jagjit Singh by 12-10, 12-10,11-7.
In Junior U-19, Zaffer beat Pranav by 11-8,11-8,11-9. In Women singles Vanshika beat Bhoomi by 11-8, 11-9,11-8.
In Hope category, Yuvraj Luthra beat Mohd Mashook 11-9,11-9,11-8. Deputy Commissioner Poonch, Inder Jeet was the chief guest on the occasion while Education officer 93 Inf brigade Lt. Col Sanjay Yadav and Krishan Lal Sharma(Retd Div. Sports Officer, Sports Council) were the guests of honour.
Earlier, President District Table Tennis Association Poonch, Ajeet Singh Jeet presented a detailed report of the achievements of the Association in promoting the game. Speaking on the occasion, Er Saleem Bandey, General Secretary of the Association said that Poonch Table Tennis Association has been regularly organizing the tournaments for the last 32 years.
Renowned Anchor Pardeep Khanna threw light on the history of T.T Association Poonch and also conducted the proceedings.
Guest of honour Lt Col Sanjay Yadav, while speaking on the occasion said that Poonch has huge talent in sports and Army also has done a lot to give a proper platform to youth to show their talent. He also lauded the role of T.T Association in promoting the game.
DDC Poonch Inder Jeet, while speaking on the occasion said that District Poonch is hugely blessed with extraordinary talent in various games, adding that the government is keen to develop sports infrastructure in all the districts of the state. He assured every possible support for table tennis association from the administration
Those who were present on the occasion included Tariq Khan, Mohd Qasim, DYSSO; Manmohan Suri(TSO), Dr Khaliq Anjum, Bashir Ahmed, Manager sports stadium; Er Ravi Sharma,Er Sham Singh, Muneer Choudhary(XEn), Joginder singh (PEM) Sanjay Raina(PET)  Jagjeet Singh Nikka, Matinder Pal Singh, Prem Parkash Luthra(Retd DYSSO, Daleep Singh, Er Jagmeet singh, Er Shoket Choudhary, Janak Singh Poet, Ravinder Bitta, Sunil Sharma Sarpanch, Rajinder Singh Toofan, Rajinder Singh PET, Parvez Afridi, Mohd Shabir Anjum (AAO), Nadeem Shah, Riaz ahmed, Imran Shah, Sanjeev Gupta, Devinder Dabur, Er Hanief Choudhary.