Jammu
During the most challenging times, Ashkoor Wani, Pandey, Yougal, Angral performed extraordinary and won people's heart in Rajouri-Poonch range
During the most challenging times, Ashkoor Wani, Pandey, Yougal, Angral performed extraordinary and won people's heart in Rajouri-Poonch range
SALIL RAINA
(POONCH TODAY NEWS)
POONCH/RAJOURI: Twin districts of Poonch and Rajouri remained sensitive on various fronts includes militancy, bovine smuggling, incidents of sacrilegious acts, supporters of across the border's ideology, drug terrorism, various issues of hurting religious sentiments,  many anti national gangs who were always ready to disturb peace and prosperity on various occasion during the last once decade.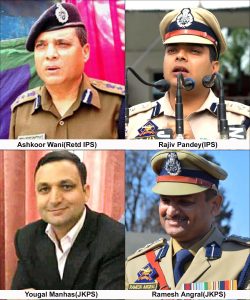 Although, many police officer posted as SSP's and other officer ranks in twin border districts played their good role in the elimination of militancy, but, there were few police officers who won hearts and minds of  the people with their professionally sound policing  and are still remembered by the people  for their best and challenging tenures.  Being IPS is not always a guarantee that an IPS officer always has out of the  box solution for every issue, because in past, there were IPS officers who got chance to serve in Poonch and Rajouri districts, but they failed to leave an indelible mark on people because of their questionable approach and one of them  is still remembered by people for his disastrous tenure because his supercilious and iniquitous approach proved heavy over his professionalism and peace and prosperity of a border district almost a decade ago, but there were few KPS officers who out rightly passed their IPS officer's when it comes to proving their mettle through their professional policing. Even few police officers posted at the helm of affairs in Rajouri district during the last decade preferred to indulge in open to discussion activities by using their trademark gift of the gab to hoodwink public and fourth estate, but professionally, they proved zero on the ground. From 2008 onwards, J&K witnessed many challenging situations in various areas, but what happened in Poonch-Rajouri range from 2008 onwards is well known to all. If there were few arrogant police officers under whose tenures, reputation of J&K police witnessed nose dive, then, there were few police officers who did their tremendous job in brining peace to Poonch and Rajouri district during the most challenging times.
Ashkoor Ahmed Wani(IPS) Retd, who was SSP Poonch from December 2010 to April 2012, was instrumental in tackling every situation. During his tenure, anti social elements were not having the guts to play any type of foul against the national interest. As, Poonch had witnessed 2008 disturbance due to the failure of police and confidence of people in police was all time low, then S Manmohan Singh after taking over as SSP Poonch, tried to set the system on track by challenging wrong elements of the society, but he was targeted badly by anti social elements through their mentors in the then political government.
Then proving bright light during dark hours, Ashkoor Wani, after taking over as SSP Poonch,  was the only officer, who pushed all anti social elements to the wall and ensured total peace during his tenure. His strong policies during challenging time are still remembered by the people of Poonch. Even, Wani went extra mile and imposed ban on loudspeakers from religious institutions and none of the police officer till now collected the guts to take such a bold decision which he took in public interest. Wani was badly against hurriyat elements in the district and his professional terror was enough against anti social elements as a result, Poonch witnessed total peace. Ashkoor Wani was   a total police officer and had earned huge respect of public because of his strong policies. During the tenure of Wani, Yougal Manhas was his deputy.
The 2016 Kashmir unrest which shook peace and prosperity of J&K in general and Poonch district in particular, there was a challenging task before Poonch police and to some extent, failure on part of police led to increasing confidence among anti social and anti national elements who did their best to disturb peace. Even those forces that remained part and parcel of various high voltages dramas against the nation were not taken to task by police. Disturbance in Amaranth yatra and Charri mubarak were not challenged by police strongly and as a result, confidence of people shattered in police badly. But after taking over the reins of Poonch district, young IPS officer Rajiv Pandey did some strong and tactful policing and was instrumental in successful and peaceful completion of two successive Amarnath yatra's. Other challenging situations from anti social elements of the society having far reaching consequences were tackled by Pandey right from the roots through his strategic deployment, coordinating engineering and thoughtful policing. Entire team of Pandey, which includes many Dy.SPs and other senior and junior police  officials  played its gigantic role in ensuring full peace in the district.  Pandey became the only police officer in the last decade who was given massive farewell by the people of Poonch, Surankote, Mandi and Mendhar and a video of that outstanding farewell was shared on social media by the then DGP J&K police Dr S.P Vaid. Pandey did his best in providing peaceful atmosphere in Poonch district and won peoples heart and is still considered as big brain of J&K police.
Whereas in Rajouri district, few police officers during the last decade failed to leave their impact on the public and few of them even preferred to indulge  in crooked   activities. However, in tough hours during the last decade, Yougal Manhas was the only officer, who provided total policing during challenging times like abrogation of Article 370 and 35-A. Yougal was instrumental in ensuring prevailing of peace amid an atmosphere of chaos. He never allowed the evil to rise from the bottom; instead, he was the follower of the policy of nip the evil in the bud. His war against drug mafia saved many lives in Rajouri and several youths were given friendly policing.  Many evil forces were planning to disrupt peace in Rajouri over some important decisions of union government, but they were taken to task strongly by police and as a result, peace prevailed in Rajouri. The professional work of Yougal Manhas was also appreciated by former Union Home Minister during his visit to Rajouri. When Pandey was providing total policing in Poonch district, Yougal was performing the same job in Rajouri district. Due to top class policing during the most challenging times provided by Yougal and Rajiv Pandey, twin border districts of Poonch and Rajouri remained peaceful.
Then, few bigger challenges came in shape of Art 370, SC verdict of Ayodhya and COVID crisis, and in those hours of crisis, Ramesh Angral, former SSP Poonch was instrumental in implementing strong policing on the ground. In fact, Angral faced many challenges all of a sudden after the abrogation of Article 370 and under huge pressure, entire men and machinery of police did a commendable job and no untoward incident reported anywhere in the district. Angral was looking like a cool and calm officer, but internally, he acted tough beyong expectations and didn't allow anybody to judge his next move in every situation. Angral was personally seen visiting every nook and corner of the district, even during night hours, for ensuring safety, peace and prosperity of the people during tough times. Even during the COVID crisis and many issues of national importance, Angral proved his mettle many times. In tough hours after the abrogation of Article 370 and other important decisions of union govt, DIG Vivek Gupta, also played a big role from behind the curtains with his timely advices on various issues for police of twin districts for ensuring complete peace in Rajouri-Poonch range. Although, majority of officers from low level to top level posted in twin districts of Rajouri and Poonch during the last one decade had a normal tenure, but during  the most challenging times, only few officers were able to leave an  indelible mark on the people and they were Ashkoor Wani, Rajiv Pandey, Yougal Manhas and Ramesh Angral. On the other hand, few police officers posted in Rajouri and Poonch districts, over the years, gave ultimate preference to their concave ego and as a result, they failed to prove their professionalism on the ground. After the transfer of these meritorious officers from Rajouri and Poonch districts, public perception in police is very undernourished right now and government needs to analyze the situation on merit by placing right person for the right job going by the history of these two districts as a spark neglected burns the house. It's a fact that twin border districts are most sensitive from policing point of view and its not everybody's cup of tea to leave an impact on the people, but only an officer with wisdom, total professionalism and guts can ensure victory of peace over any type of evil and Ashkoor Wani, Rajiv Pandey, Yougal Manhas and Ramesh Angral have proved this during the most challenging times and that's why, they are still living in people's hearts.