Jammu
DIG Rajouri-Poonch Range inaugurates renovated police chowki in old bazaar of Rajouri city
DIG Rajouri-Poonch Range inaugurates renovated police chowki in old bazaar of Rajouri city
POONCH TODAY NEWS
RAJOURI: DIG Rajouri-Poonch Range, Dr Haseeb Mughal, along with President Municipal Council Rajouri, Mohammad Arif; SP Rajouri, Vivek Shekar and Ward Councillor, Pushpender Gupta, inaugurated the renovated Police Chowki at Old Bazar Main City of Rajouri.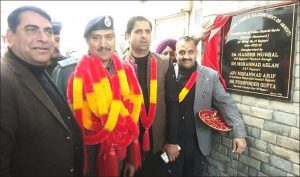 The renovation of the police chowki in Rajouri has been completed as part of the City Beautification Plan of the Rajouri Municipal Council.
Dr. Mughal praised the work of the Rajouri Municipal Council, noting the council's efforts in sanitation and other projects under the leadership of its President. President Municipal Council Rajouri, Mohammad Arif, announced that the council has undertaken numerous projects as part of the city beautification program, including the development and maintenance of attractive and scenic locations. He also mentioned that this specific beautification project was approved under the approved development plan of Rajouri for the year 2022-23. He also highlighted that the renovation of the City Chowki was a long-standing demand from the citizens of Rajouri and that it is crucial from a security standpoint. He emphasised that preserving historical entities and monuments is a priority in the development of Rajouri town. The event was also attended by SHO Rajouri, Fareed Choudhary; Chowki Officer Mohammad Qayoom, among senior citizens and others including Rajinder Singh, Deepak Kumar, Sushil Sharma, Amish Malhotra and Amit Kumar.