National
PM Modi launches "Fit India" Movement
POONCH TODAY NEWS
NEW DELHI: Prime Minister  Narendra Modi launched the Fit India Movement at a ceremony in New Delhi, the other day, on the occasion of National Sports Day.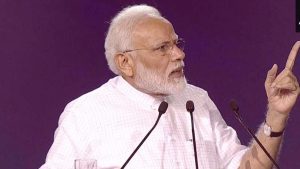 The Prime Minister urged the people of the country to make fitness their life style. Launching the people's movement on the birth anniversary of Major Dhyanchand, Prime Minister Narendra Modi paid tributes to Major Dhyanchand, India's sports icon who enthralled the world with his game and techniques. He also congratulated the young sportspersons of the country who are keeping the tricolor afloat on the world stage through their efforts.
"Their medals are a not only the result of their hard work but reflection of a new zeal and new confidence of a New India", the PM said.
The Prime Minister said that 'Fit India Movement' should become a national goal and its aspiration. In an effort to inspire the nation, the Prime Minister said that Fit India Movement may have been started by the government but it is the people who have to lead it and make it a success.
"Success is related to fitness, success stories of all of our icons from any field of life have a common thread- most of them are fit, have a focus on fitness and are fond of fitness", the PM added.