National
On 2nd anniversary of Article 370 abrogation, J&K people stand with the nation energetically; Forces inimical to peace have crestfallen substantially
On 2nd anniversary of Article 370 abrogation, J&K people stand with the nation energetically; Forces inimical to peace have crestfallen substantially
SALIL RAINA
(POONCH TODAY NEWS)
POONCH/RAJOURI: August 5, 2019 was a historic day for the people of J&K, when Union Government abrogated the temporary and controversial Articles 370 and 35 A and promised commencement of a new era for the residents of J&K. Apart from large sections of J&K, accordance of UT status to Ladakh was also celebrated with pomp and show by the localities.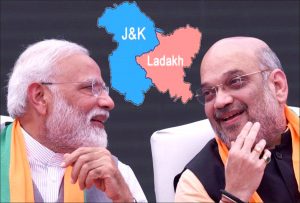 J&K, being an integral part of our country is a crown, jewel of the nation, but unfortunately, Valley-based leadership and separatist forces, under the direction of their mentors sitting across the border hoodwinked people of J&K with false promises of the so-called "Azadi". They succeeded in their agenda to some extent for years, but no government at the Centre from the early 90's onwards could muster the courage to counter this sinister design of Valley-based leaders, leading to a spike in terror activities.  It's a fact that Valley-based leaders, who remained in power, blackmailed New Delhi for decades and remained involved in unparliamentarily activities. Even, former Governor Satya Pal Malik once said that a few J&K leaders for decades behaved like 'Sultans' of J&K and were involved in various scams which were in several crores. The common man of the valley was misguided because of various anti-national narratives which were continuously flouted by few leaders against the interest of the nation. Only a small chunk of people were involved in anti-national sentiments, but the majority of people of J&K, especially from the valley always  wanted development, but their voices were choked by valley based leaders and separatist forces.
But, then came the big turning point in the history of J&K on Aug 05, 2019, when the Union Government under the leadership of the Hon'ble Prime Minister of India and the Union Home Minister gave the much-needed respite to people of J&K from the clutches of those valleys leaders who befooled everybody for decades, by abrogating the temporary status. By successfully and peacefully conducting the operation abrogation of  Article 370, which was of temporary nature, Union government did a remarkable job by ensuring foolproof security for everybody as no untoward incident of any kind was reported from anywhere in J&K. Even propaganda of Pakistan failed miserably as their paid forces in the valley which were inimical to peace in J&K, have crestfallen substantially.  It was the same Kashmir valley, which used to witness clashes even on trivial issues, to be instigated by valley leadership and separatist forces by using poor and innocent people who were having no sources of income. Few innocent youths were misguided under the radicalization campaign of anti-India forces and this process remained active for almost two decades, but slowly and silently, people have started realizing that they were misused by anti-India forces. Ghulam Ahmed, a resident of District Shopian, who was on a visit to Noori Chamb waterfall, in Surankote tehsil of Poonch district, said, "Now, every Kashmiri wants development and is ready to walk an extra mile with the union government. The heavy influx of tourists in Kashmir valley and the way they receive love and care from locals is an indication that valley people are ready to play an important role in the nation's development."  After a long time, people of Jammu and Kashmir have realized that they were hoodwinked by valley-based leadership for decades and that's why no untoward incident reported on the first anniversary of abrogation of Art 370 on Aug 5, 2020. Now, on the second anniversary, the people of the valley are not showing any act of standing against the nation, rather, they want only peace and development. Almost nil response to the call given by the separatist forces on "Martyr day" on July 13 shows that people are not ready to find themselves trapped again in the false propaganda of anti-India forces as they want a better future for their next generations. Even a few valley-based political parties are unable to convince people to stand against abrogation of Art 370 and it's a clear indication that valley wants peace.
After the abrogation of Article 370, Union and J&K UT governments have introduced many youth-oriented schemes in addition to finding ways and means of providing government jobs to deserving ones. Recently, the J&K government said that efforts are going on to advertise nearly 16,000 gazetted and non gazetted posts. Under Mission Youth, the government is going to spent nearly Rs 200 crore for the overall development of youth. For providing assistance to youth who are keen to start their business in the Transport sector, the government has been providing financial assistance under the MUMKIN program. Under the Back to village program, more than 17,000 youths were provided financial assistance for their self-employment ventures under priority sector lending. Under the Himayat scheme, more than 20,000 youths have got training and more than 7000 have managed to get jobs in the private sector. Under the NREGA sector, people are getting money directly into their accounts under various schemes like PMAY and similar other ones. On corruption, the government has started tightening the noose around corrupt officers, and many deadwood were given premature retirement and this action of government has won millions of hearts. People have started witnessing massive changes after the abrogation of Article 370 and 35 A. Only some opportunists Valley-based political parties, just to show their presence before their political bosses, used to give statements against abrogation of Article 370. But, on the ground, people want peace and development and they have started witnessing an era of transparency in government works. Ensuring democracy at grass root levels has become a reality in J&K as government successfully strengthens Panchayati Raj institutions by fruitfully holding BDC and DDC elections. The process of development has started in a big way as local representatives have been given the powers to formulate local developmental plans on their own. After witnessing the strengthening of Panchayati Raj institutions, people of J&K have realized that they witnessed nothing during the tenures of governments led by valley-based political parties. Because of the positive response from the government under various schemes, youngsters now fully stand with the nation and they are ready to play their active role for the development of the nation and this massive shift in the mindset of valley-based youngsters after the abrogation of temporary status(Art 370) is a massive indication that youths have realized that they were misguided by the stooges of Pakistan.  People have realized that before the abrogation of Articles 370 and 35 A, J&K residents were cut off from the country from a development perspective as funds in several thousands of crores were siphoned off and those, who were involved in financial frauds, now being taken to task by the Union government. After Aug 5, 2019, stone-pelting incidents are over as the government has broken the backbone of terrorism in the Valley with the active support of the people of Kashmir. The Health, Education sectors are witnessing massive improvement. Women are being empowered. Even, by accepting the ceasefire agreement early this year, Pakistan has accepted the abrogation of Articles 370 and 35 A. Earlier, the majority of funds were directed towards Kashmir, but now, with a transparent developmental process started by the Government of India, funds allocation will increase and will not limit to the valley alone, but every area of J&K will get its due share. Even, border areas will get direct funding for development. With the introduction of people-oriented polices, anti-national forces have become depressed to a large extent as the government has started giving them befitting retribution for their anti-national actions. On one hand, a massive shift in the mindset of youths has been witnessed, but on the other hand, people of twin border districts of Poonch and Rajouri, who remained a soft target of valley-based leadership under their "Greater Kashmir" plan, remained united with the nation during every challenging time. Not a single incident was reported anywhere in Poonch and Rajouri districts after the abrogation of Articles 370 and 35 A because people were already dejected by valley-based leadership as no development was ensured in twin border districts by Kashmir based leadership for decades. Unfortunately, Poonch and Rajouri districts are still considered backward districts and people here always stood for national integrity and always rejected forces inimical to peace. For centuries together, the people of Poonch and Rajouri are known for their communal harmony and mutual coexistence. These two districts have shown to the whole country a perfect example of brotherhood and love between all the religions. On the second anniversary of abrogation of Article 370, People of J&K in general and Poonch and Rajouri districts, in particular, foresee development and are ready to walk the extra mile with the nation in defeating sinister designs of anti-national forces and Pakistan and at the same time, they want full assurance from Union government for the overall development of these two twins districts, which always stood like a rock with the nation during various wars with Pakistan and during militancy days. Poonch and Rajouri deserve a four-lane highway, train service, air service, strong road network, and massive infrastructure building in Health, Education, Tourism, Sports, and other sectors. The work on Jammu – Poonch national highway is under construction and at the same time, the Poonch district got an international standard Hockey Astroturf. Whereas, in Rajouri, the Union government gave medical college and similarly, many important developmental projects are in pipeline and all this has been happening after the abrogation of Article 370 and 35 A. The youth of J&K is highly talented, so the government needs to open up many job avenues, both in the government and private sector in addition to adjusting youth under various self-employment programs for a dignified living.  In short, people of J&K stand with the nation energetically and need never seen before development in all the spheres of life and they are confident of witnessing a new era of peaceful coexistence and overall development under the supervision of a strong Union government and at the same time, they want tough action against anti-national forces, even, if  a few of them are working as employees(Gazetted or Non-Gazetted) in J&K UT government.